The Anchor family started to farm in New Columbia, Pa in 1959. My father originally did the farming. My dad began by raising "meat" chickens before the days of poultry contracting. We also raised tomatoes for Chef Boyardee in Milton, Pa. I started the farm with my dad when I was a young teenager, and in 1975 at the age of 15, I signed my first tomato contract with Chef Boyardee. After graduating Milton High School, I attended Williamsport Area Community College (now known as Pennsylvania College of Technology) and earned an Associated Degree in Ag Business. My father and I formed Anchor Farms, Inc. in 1987.
At the time, Anchor Farms raised over 300 acres of vegetables, and focused on processing tomatoes, sweet corn, string beans, and fresh market bell peppers. I worked with a packing company called Hilltop Farms for 4 years, procuring and managing acres of bell peppers and slicing cucumbers; this gave me the nudge to get out of the tomato business. I continued to work with Hilltop Farms until that business was sold. The following spring I started Keystone Group Agricultural Seeds with my friend Carl Schmidt, another local farmer.
Anchor Farms over the years has evolved from a 100% tillage operation to a 100% no-till operation, and participates in a number of conservation programs. Anchor Farms is Committed to Excellence in the Field! We practice lime and fertilizer applications within crop management zones, application of pesticides utilizing Integrated pest management, crop rotation, and the use of cover crops, just to name a few of the many practices incorporated into our crop production system. Today, the Anchor family still farms about 400 acres, producing corn, soybeans, small grains, and processing string beans for Furmano Foods of Northumberland, PA.
Fundamental beliefs that we adhere to on the farm:
The Lord provides us a time to plant and a time to harvest, regardless of weather.
As farmers, we put the seed in the soil, provide it the best care possible, and HE gives us the return.
We are only stewards of this land for a short period of time, and as farmers we need to leave the land in better condition than it was when we acquired it.
And finally, the opportunities that the farm provides to our children as they are growing up are unequaled than any other place where you could live.
The Anchor Family Today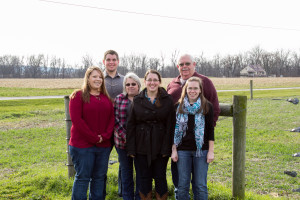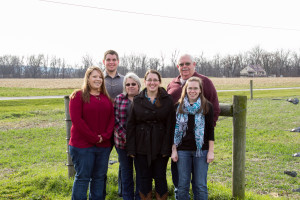 My father, Joe Anchor, who passed away at 90 years of age in 2013, was always very interested in what was going on and he is greatly missed.
My Wife, Evelyn, my partner in life, friend, mother to our children, and all-around great gal!
Our Children:
Christine is currently working as the administrative assistant for Keystone Group Ag Seeds. She recently married her best friend, Justin, in the sand and sun on Virginia Beach.
Cynthia graduated from California University of Pennsylvania in May 2014 with a bachelor's degree in Wildlife Biology and a minor in Chemistry. She currently has a research assistantship at South Dakota State University and is working to earn her graduate degree.
Courtney graduated from The Pennsylvania State University, University Park in May 2017 with a degree in Agricultural Sciences with an emphasis in Plant Science Research and a minor in Agribusiness. She is currently working as a research technologist at the Penn State Agronomy Farm.
William is a junior at The Pennsylvania State University, University Park. He is currently pursuing a degree in Environmental Systems Engineering. He also helps dad on the farm.  His ambitions and current interests include hunting, fishing, farming, etc.
The newest addition to our family is Piper, a Chesapeake Bay retriever.