**SAVE THE DATES**
Ag Progress Days – August 15-17, 2017
Keystone Group Ag Seeds will be attending the 2017 Ag Progress Days. Our plan is to have a corn plot on display once again to showcase some of our top conventional and GMO corn varieties. We offer a wide variety of products ranging from corn and soybeans to forages and grasses to cover crops and inoculants. We also have a wonderful group of  experienced individuals ready to answer any questions you may have! Please stop by and see what we can do for you!!
Keystone Group/Anchor Farms Field Day – September 14, 2017
We are once again planning our Keystone Group/Anchor Farms field day. Our main focus for this year's field day will be cover crops, soil health, and protecting the environment, while maintaining our farm profitability. We will have a cover crop plot, as well as our corn and soybean plots on display. We will also be exploring the use of alternative crops in our rotations. These topics and more will be covered throughout the day so be sure to join us for great learning opportunities and a wonderful meal provided by Ard's Catering.
Keystone Farm Show – January 9-11, 2018
Keystone Group Ag Seeds will be at the 2018 Keystone Farm Show. We offer a range of products and have an experienced group of individuals ready to answer any questions you may have. Stop by our booth and see what we can do to help you!
---
2015 Field Day
This past September, Keystone Group Ag Seeds hosted a field day with Penn State Extension where farmers could view research plots and gain some valuable knowledge. Discussion topics included soil, slug management, fungicide usage on soybeans, and an update on the hulless barley program. There was also an opportunity to learn about the population studies being done, as well as view several additional corn and soybean research plots. In addition, Keystone Group hosted a special guest, Marion Calmer from Calmer Corn Heads out of Illinois. He spoke to those attending about residue management and the function of Calmer Corn Heads products. Attendees were then given the opportunity to see Calmer products in action, as a strip of corn was harvested to demonstrate how the corn stalks and leaves were chopped up and spread in the field. Overall the field day was a success, with an awesome turn out and a good amount of valuable information presented to everyone attending.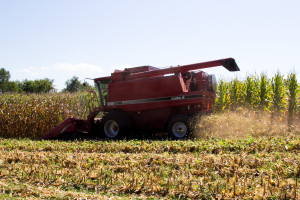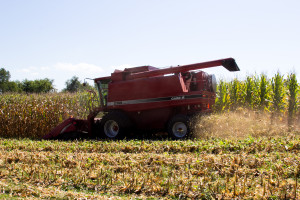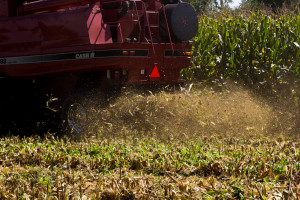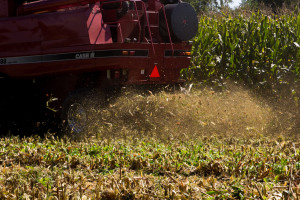 ---
Open House
On July 1, Keystone Group Agricultural Seeds celebrated their move into a new office by hosting an open house. Dealers, customers, and vendors were invited to visit throughout the day, tour the office, and enjoy refreshments. The new office is located at 288 Leiser Road New Columbia, PA 17856, which is just around the corner from the previous location.
July 2015
---
PSU Extension Hulless Barley Trial
On June 10, Penn State Extension, in cooperation with Keystone Group Ag Seeds and Don Cotner Farms, hosted a hulless barley plot walk. This event, organized by Union County Extension agent Chris Houser, was an effort to display 27 new hulless barley lines for future use in Pennsylvania. Dr. Greg Roth was present and provided those attending with valuable knowledge regarding hulless barley management. This was considered a success, as approximately 12 producers were in attendance.
June 2014
---
PSU Extension Soybean Treatment Trial
While attending the hulless barley plot walk hosted by Penn State Extension on June 10, producers had the opportunity to see additional research that is underway. A soybean plot showcasing 6 varieties, each with treated and untreated samples, gave producers a chance to see any differences that may arise during the growing process.
June 2014
---
Keystone Group Customers: On the Leading Edge of the Cover Crop Wave
Have you tried cover crops?
How many different species do you see in these pictures?
Are you ready to step out of your comfort zone?
---
AG-Education Day with John McGillicuddy
John McGillicuddy is an independent Agronomist.  He was educated in Chemistry at the University of Iowa and has been employed for 35 years in hybrid and fertility research, field agronomy, technical support and weed science in the upper Midwest and the Southwest.  John serves farmer clients directly in Illinois, Iowa, Missouri, Kentucky and Tennessee.  He is also a Certified Crop Advisor.
John's topics for the day included "Controlling Weeds in Non-GMO Soybeans," "Corn Production: What Goes on Under the Soil?" and "Plot Results Aren't Always What They Seem."
January 2014
---
Customer Appreciation Day
October 2012
---
Keystone Farm Show
We had a great week at this year's Keystone Farm Show! Joe and Spencer were joined by Leon Bird of ABM and 1st Choice Seeds and Don Botkin, ABM's National Sales Manager. Gary Dollarhite of ABM was with us on Tuesday, and Nancy came down and helped us out on Thursday. The turnout was fantastic, and we got the opportunity to meet a lot of great people from all over the east. With over 350 agricultural vendors, the Keystone Farm Show had a little something for everyone!
January 7-9, 2014
York Fairgrounds
---
Professional Crops Producers Conference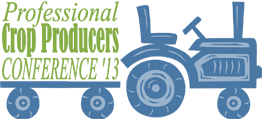 February 17-19, 2014
Lancaster Host & Conference Center